Scales are in just about every household. Whether you are just trying to keep track of your weight, dieting, or for health reasons, Ozeri has the right scale for you. Take a look at two of my favorites and you just may find one that you like or one that will make the perfect gift.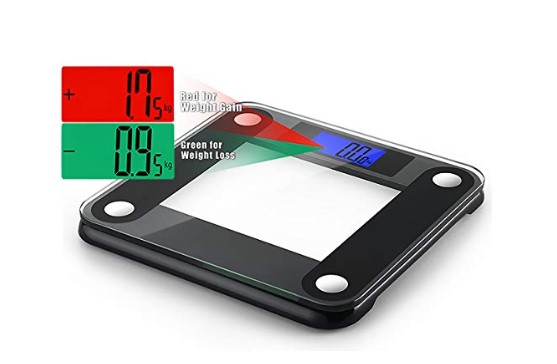 Newly enhanced weighing technology now measures to the nearest 50 grams (0.1 lbs./ 0.05 kg), with a maximum weight of 440 pounds (200 kilograms).

Features Weight Change Detection that automatically displays your net weight change in GREEN for Weight Loss and in RED for Weight Gain by tracking the change in weight between measurements.

Award-winning design platform made of impact-resistant tempered glass, with non-slip feet that will not scratch floors, and a convenient Unit button to switch between lbs., kegs, and St.

Step on only Activation captures the precise weight measurements immediately upon placing feet on scale (no tapping required).

Auto-calibrated and automatically turns off to conserve battery life. Ships with 4 AAA batteries, a BONUS Body Tape Measure, AND a FREE Body Fat Caliper. Simply, EVERYTHING you need, with Ozeri's 100% Hassle-Free Satisfaction Guarantee.
This bathroom scale is perfect for monitoring weight loss. Another great feature is the large numerals which are easy to read and colored back-lighting, it is perfect to read and understand. As in terms of the accuracy of this, it is pretty spot on. I was using this when I was trying to monitor weight loss when it came to a health issue. Battery life is average and it takes batteries which are easy to find which is a huge plus.  Also, it does have some weight to it and it quite sturdy. For more information click here.
Christmas Deal
20% off
Black or clear only
Use Code 20XMASZB142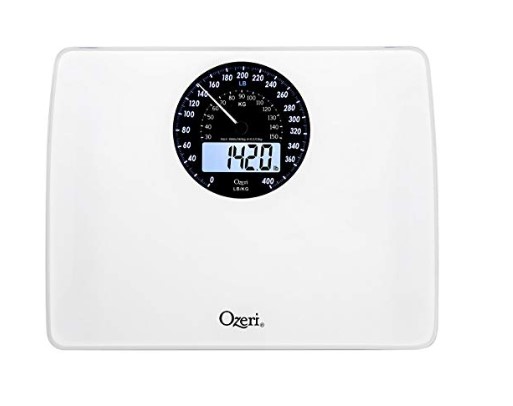 Synchronized electro-mechanical Dial and LCD automatically illuminate and instantly point to your weight in lbs. and kg, for easy-to read results in all light conditions and from any angle.

Visually stunning design incorporates a 5.5 inch dial and integrated digital display with stylish chrome accents to create a distinctive retro look with the accuracy of modern technology.

Professional quality bathroom scale features and an over-sized platform. It is made of impact-resistant tempered glass for ideal stability.  Also, it has a new built-in alarm that reminds you to measure your weight at the same time each day.

Uses 4 high precision GX sensors that weigh up to 400 lbs. (180 kg) in 0.2 lbs. or 0.1 kg increments, with Step-on technology that captures precise weight measurements upon contact.

Auto-calibrated and automatically turns off to conserve battery life. Runs on 3 AA batteries with a Low Battery Indicator (batteries included). Satisfaction guaranteed.
With easy to read which numerals, this is something that I loved. Offering two different ways to read the bathroom scale, it is perfect for just about any user. Numerals are large and easy to read. Accuracy of the scale is spot on. Also, battery life on this is about average and batteries are easy to find which is also a plus. This has some weight to it and is sturdy. For more information on this item, click here.
Christmas Deal
15% off
Black or White
Use Code 15XMASZB23
Ozeri Brand
Ozeri is a brand that offers many products for the home. For more information in regards to this brand as well as check out the other products this company has to offer, please feel free to check out their website which can be found here.
For more holiday posts as well as giveaways please remember to follow https://margsproductreviews.com/ and https://blitz-in-reviews-and-more.com/. 
Products were provided for the basis of the review. Opinions are of our own.
#Elite1SReviews #Ozeri #HGG #Deals #Gift