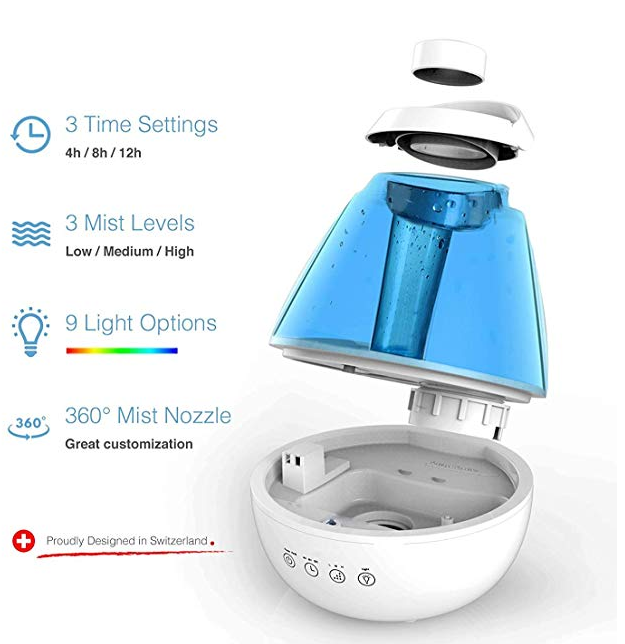 Having a Premium Ultrasonic Cool Mist Humidifier is a must in the winter time for any home when you have the heat on. It helps prevent the air from becoming too dry which is what tends to happen when we have the hear on. When it comes to choosing the right Premium Ultrasonic Cool Mist Humidifier it can be difficult.  There are so many out on the market that sometimes it can get confusing. The Tekjoy Premium Ultrasonic  Cool Mist Humidifier is one that you will definitely want to consider. Offering many features with a suitable price, this one is perfect for just about any part of your home, including a baby's room.
What does it offer:
Long-Lasting Relief: From stuffy nose to dry skin, our cool mist ultrasonic humidifier provides up to 24 hours with max output of 280ml/h±10% soothing comfort into your room. While some brands can be bulky, our optimum size (2.5liter tank) vaporizer is designed to perfectly complement both your living and working space for a comfortable stay.

Easy-Lifting HandleE: Proudly designed in Switzerland. While other models leave refilling a hassle, our unique Swiss-style tank lifting handle guarantees you a true pleasant refill and a very easy clean. Our 360 degree spout allows misting a refreshing relief.

Automatic Shut-off: We care about your safety. Automatic shut-off feature ensures you peace of mind when water runs out or the tank is in wrong position. A convenient smart timer with 3 settings (4/8/12 hours) diligently follows your own schedule, bringing timely calming moisture.

Quiet Touch Panel: Utilizing the whisper-quiet operation technologies, our fun-to-play-with touch panel gives you LOW-MEDIUM-HIGH misting options along with 7 colors of LED lights for a magical and peaceful night sleep! With ≤32 dB for a quiet humidification, it's ideal for babies and light sleepers.

Buy With Confidence: US local support team. With ETL and FCC certifications, your Tekjoy humidifier includes 1 tank brush and 2 ultrasonic disk brushes for easy clean. No filter needed makes it very easy to use. Backed with our incredible 5-year warranty, you get lifetime support from Tekjoy.
Putting it to use:
As many of you know, I live in the chilly part of the world which means the heat is on. My home became a little dry and with that being said, it was the perfect time to put this to use. Upon opening the box, this item included various sized brushes to be able to clean this properly. Filling the tank with water was easy and carrying it back to the unit was just as easy to do with the easy carry handle. Your control panel is touch screen. I didn't have to push very hard to put it on the desired setting that I wanted. This unit offers the typical low, medium, and high settings. Something that is a little different is that you also have the option to set a timer on this unit.
For more information in regards to this product  feel free to visit the product listing which can be found here. The best part is https://margsproductreviews.com/ and https://blitz-in-reviews-and-more.com/    and Tekjoy are teaming up to give you an amazing giveaway. There will be 8 winners for a humidifier unit.  Tekjoy will send out the prize code to winner within 4-6 weeks. Also, Entrants must live within the United States. Once a winner is drawn, said person will have 48 hours to reply to contact email. If there is no reply, there will be another winner drawn at that time.
#AD #Elite1sReviews #HGG #Giveaway #Prize #Win
Giveaway Time